Sports & Stash
Sports & Stash
Here is a brief summary on how to get your hands on vet stash and more information about vet sports.
Firstly, introductions: Anderson Allcock and I are your sports and stash reps for this year. We also have some wonderful captains for our vet sports:
– Netball:               Rebecca Maxwell and Gabby Craft 
– Mixed lacrosse:    Emilia Collinson and Laura Elcock 
– Rowing:              Hannah Lagorio-Price and Lauren McGravey
Please message the captains or join the Facebook pages for more information about joining:
Secondly, stash!
Cow-print sports tops  
If you are interested in one of our fun cow-print sports tops, you can sign up to get one here: https://docs.google.com/forms/d/e/1FAIpQLSd3C9JEsNK5FkzyLCo_Ar1zRU7fc838v9JqZm4EkEvNd5fxvw/viewform?usp=sf_link
We expect them to be between 19-24 pounds, depending on the order size.
Deadline: Wednesday 26th October. Please note – I will contact you to check you will pay for the top before sending off the order!
Vet-school stash  
Here is the link for the CUVS stash catalogue: http://www.tylershorseandcountry.co.uk/catalogue/department.aspx?node_id=6d423e1e-321e-4df6-a92a-a3820147a2ad&page=1
There is no deadline for ordering your item and it will come straight to your door/pidge! Go crazy!
Have a look at past veterinary sporting triumphs…
Wishing you all a fun, sporty and cow-print filled term,
Lucy and Ando
Sports & Stash Officer 2022-2023
______________________________________________________________________________
Vet Sports Blog
Vets vs Medics Sports Day
After an epic weekend of vet vs medic sport the scores are in and the vets have smashed it again, thoroughly beating the medics and continuing our vets vs medics sports day winning streak! Thanks to everyone who played, we had a great win!
Mixed Hockey: 3-1 to the vets
Mixed Football: 4-6 to the medics
Tennis: Men's singles 7-5 to the vets
Tennis: Women's singles 6-3 to the vets
Mixed Lacrosse: 0-2 to the medics
Ladies Netball: 14-7 to the vets
Mixed Netball: medics conceded  and a friendly match was played: vets won
Squash: 2-1 to the vets
Badminton: we conceded so the medics won
Rugby: vets won!
Overall: a cracking win for the vets, beating the medics in 7 sports and only defeated in 3
Freshers Sports Day
Join us on Jesus Green at 5:30pm for a lacrosse throw around and some rounders. It's a great way to meet other vets and all years are welcome! Plus it's a perfect introduction to vet sports, we'll even have some of our legendary cow print tops..
Vets vs Medics Sports Day
It's a well know fact that we vets, though vastly fewer in number, seem to be able to rally sports teams that hang the medics out to dry! This year was no exception with the results as follows:
Mixed Netball – 25-9 to the Vets
Ladies' Netball – 11-5 to the Vets
Football – 6-1? to the Medics
Rugby – 58-5 to the Vets
Lacrosse – 2-0 to the Vets
Tennis – ?? the Medics won
Hockey – 7-1 to the Medics
Overall – 4-3 to the Vets!!
Needless to say we are pretty pleased with our vetty sports prowess! Here are a few of the photos from the event!


Lent term Vet Lax gets underway…
Thanks so much for all who came down to Jesus pitch on Saturday morning! It was the biggest and best team I have ever seen for the vets, so you all made me very happy! Lets keep that wonderful enthusiasm up!
Despite a fine effort from everyone involved, we were beaten by a very good side (who I actually imagine will be gunning for Champions this year). They were that edge better than us in most areas of the park and showed us what top class lacrosse is. That said, Congrats to the whole team who really kept their chins up and fought all the way through. The second half was fantastic – we really made them work. Their Captain told us afterwards we were their hardest match of the year so far (and they were Div 1 of all last term!). SO keep smiling!
No other team will work us hard as on Saturday, and if we play like I know we can, we will be chalking up some wins in the next couple weekends!
MASSIVE congratulations to Hannah, Elle and Antonia who made their vet lacrosse debuts and did splendidly! Great stuff guys, thanks for coming and hope to see you again next weekend!
Until next week,
Greg (gjs41)
Sports Round-Up Michaelmas 2013
Mixed Lacrosse
TOP OF THE LEAGUE NA NA NA!
I can now announce that we have WON THE LEAGUE and been PROMOTED thanks to a top victory over Sidney. Our out-manned and out-gunned opposition caved 5-0 by halftime! We then had a fantastic 15mins of friendly, and I feel that everyone who came down was showing off some really good stuff by the end. Big congrats to you all on improving skills over the term!
So that's me for the rest of this term. Next term we will be playing in the First Division. This means the caliber of the opposition will rise significantly, but I feel we have all the tools we need to match it. This team has Veterans of last year and an Exciting crop of new players who have proved in the last few weeks that they have a lot to bring. Next term we will really need all of you to compete, so I hope to see lots of enthusiasm for a new term and some big games!
Lets keep our UNBEATEN run going.
Greg (gjs41)
Ladies Netball
The Vet Ladies netball team played a grand total of 3 matches this term due to multiple withdrawals from Division 5. This is probably for the best as it was a cold term and I couldn't find my gloves.
We lost our first match, understandable seeing as we had never played together before (indeed, some of us had never played netball before full stop!) but we looked fabulous in our cowprint stash (so frankly who cares about the score?) – we were improving massively by the last quarter. This was confirmed by our next two winning performances, including a thrashing of the medics (can't remember the exact score but our goal tally was so high I sent an excited snapchat about it), which bodes well for next term's Medic/Vet Sports.
I'm not sure about promotion as I think the league people will be rearranging divisions seeing as ours only has 4 teams. Seeing as we are in the bottom division, fingers crossed we won't go down…
Thanks to everyone that turned up to play and/or umpire this term – over the weeks we have had players from all 6 years turn up, which is fantastic. Well done and MERRY CHRISTMAS!
Becky (rlc53)
Mixed Netball
Our Comrade in sport is currently living it large en Français so a full report is yet to come! However a long term saw our grizzled veteran players and a few young upstarts face a difficult league. With only one win and 2 teams being demoted relegation seems inevitable and see's us re-enter the second division and hopefully the return of a great deal more opportunity for flair!
Merry Christmas to all and hope for a return to form as seen in our silver medal winning team at this years AVS sports weekend! yes we are medalists at a university….ish level
Max (mhf23)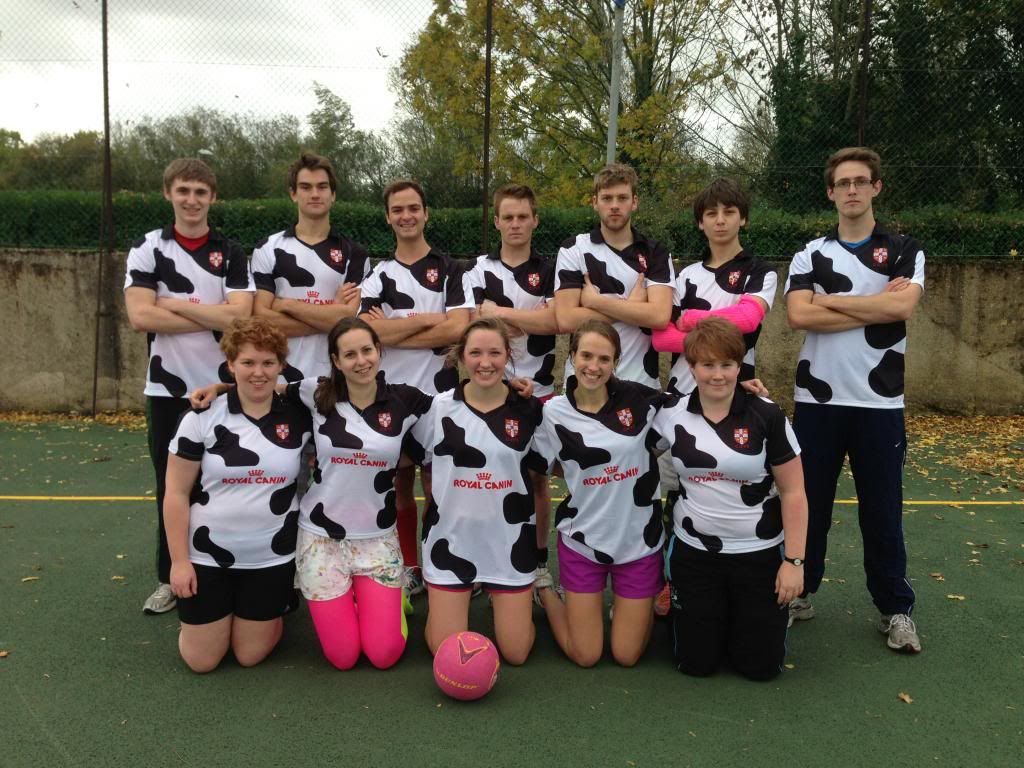 Mixed Hockey
The herd of hockey playing vets took to the grass (Ed – astro turf) at Wilby adorned in the glorious cow-print shirts #bestsportsstashincambridge to embark on what could become one of the greatest sporting journeys ever seen: "The Road to Mixed Cuppers Glory". The first round drew these pedigree bovines against Christs, and we arrived full of confidence with a big squad, including some debutants. We delivered a professional performance, passing the ball round with slickness only previously experienced on a slurry-covered yard, and fully deserved a 2-0 victory. Special mention must go to the goalscorers, an ever-running Tustings, and debutant (she's been called up from the Blues!) Emily Thorpe, as well as evergreen Hannah Darcy (coming back specially from an actual vet job) and Sid, whose efforts in goal were outstanding.
Thus, the team marches on to the quarter finals, momentum growing. Never before in history has the vet team got close to winning one of the most prestigious competitions in university sport, but (whisper it quietly), this could just be our year. We shall keep you updated – supporters always welcome 🙂
Sam (stb31)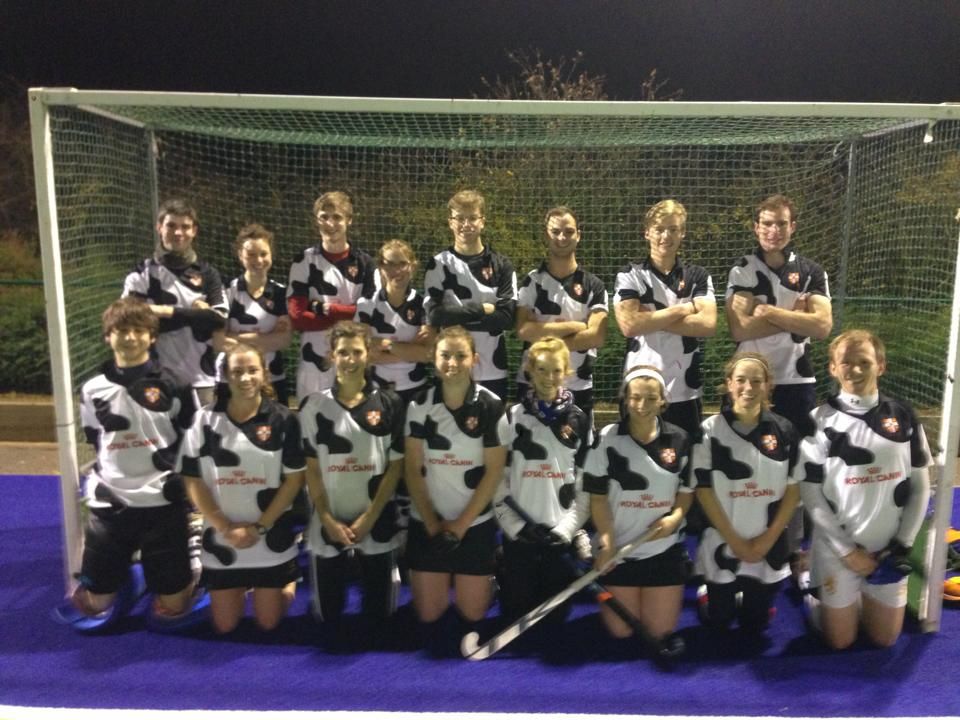 Badminton
Next term sees the debut of the vet school badminton teams, both mixed and ladies, in the cuppers leagues. after a full term of training I'm sure we will make an exciting entry. For anyone not on the list but interested just drop me an email and I'll get you added.
Ed (enb29)
Vet Lax: Vets 7 – 0 Magdelane
Despite a bit of drizzle, the vets put on a GLORIOUS display of Total Lacrosse yesterday and won 7-0 against Magdalene. With perhaps 90% possession and 6572 passes, it was quite a spectacle and one that is becoming the norm for us. Wonderful stuff. Congratulations to all who turned up, especially Boardman and Sid for top commitment! Hopefully you all enjoyed the celebratory whole team chocolate! A big well done too to Max, who was playing his first whole game for us!
(Wo-)man of the Match – Katherine for always being dangerous in midfield and almost constantly in support behind you, and for putting in a couple goals too!
'D' of the Day – me for missing a shot at goal and then having to do 10 press-ups as play continued.
Strength and honour,
Greg
Be sure to email gjs41@cam.ac.uk if you're interested in playing lacrosse for the vets but are not yet on the mailing list. All levels of experience welcome!
Vet Lax: Vets 4 – 0 St. Catz
On Sunday 13th September, the vet lacroose team returned to the pitch after the summer break. New and old faces alike took the pitch to face the fluorescent pink of St Catz and left the field victorious in what was a great start to the new season. A fantastic performance from the side brought us a 4-0 win – huge congratulations must go to Sandy for scoring on his debut, as well as goal fiend Findlay for his hattrick! Big performances were seen from all, including an impressive attacking display from the Alices and big D from Miri. Man of the Match goes to Josh and 'D' of the Day goes to Sid for outrageous flair throwing the ball over someone and catching it on the other side! Most aggressive tackler of the game goes to Amelia – spine tingling. Love it. Our next game is against GIRTON on Sunday 20th October 1:00 – 2:00pm. GET KEEN! We had a great mix of people on Sunday, from 2nd to 6th year, from debutant to blue, and it was awesome. I'm after the same stuff next time!
Strength and honour,
Greg
Be sure to email gjs41@cam.ac.uk if you're interested in playing lacrosse for the vets but are not yet on the mailing list. All levels of experience welcome!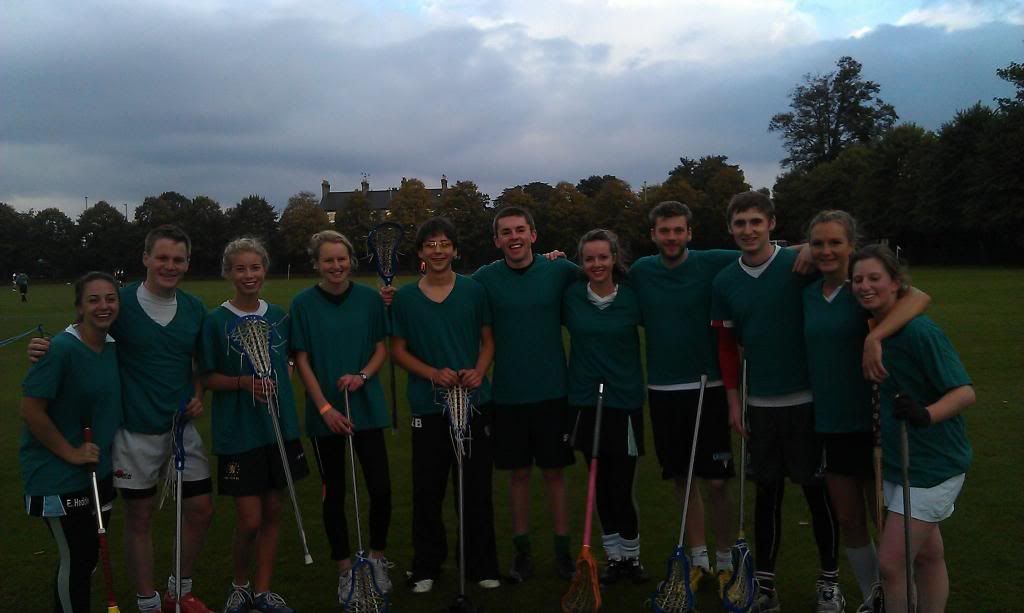 Sports Report – Easter 2013
Vet sports this year have been alive and flourishing. After a successful dismantling of the medics at a number of sports in March (praise must go to the rugby team especially for a historic win), the summer term was full of sporting events.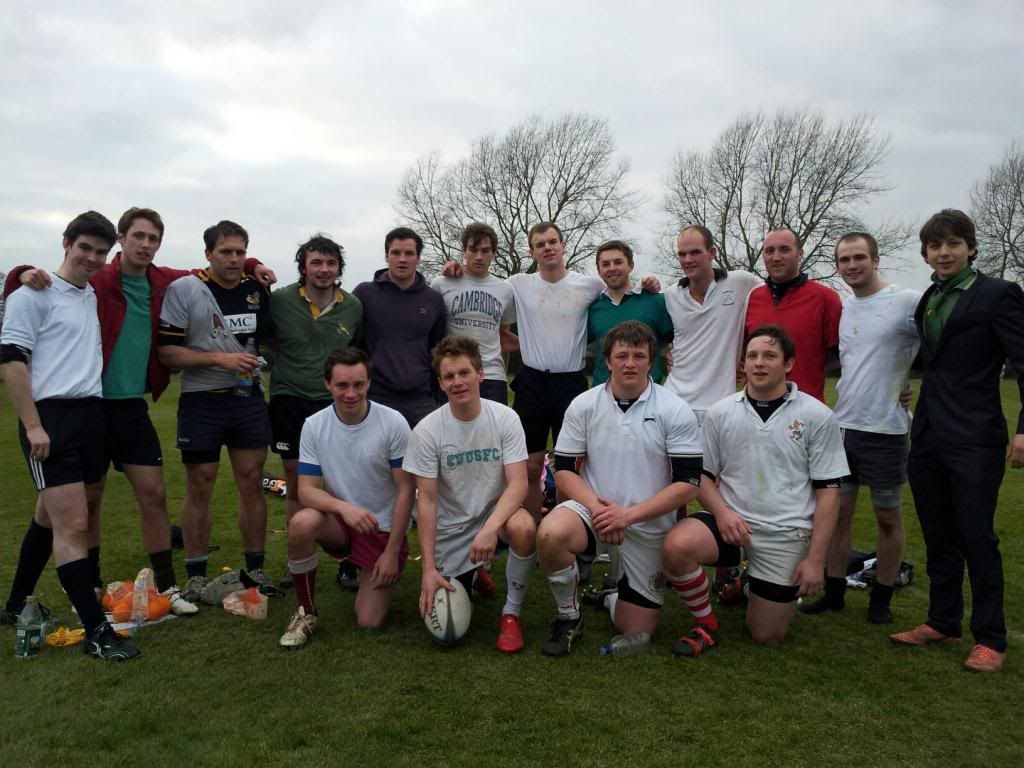 The rugby boys following their victory over the Medics
The inaugural Vet Open Golf was held at the local Cambridge Lakes establishment – well done to everyone who took part, even if you had never picked up a club before! Special mention must go to Chris Sharman and Katy Hawes, 2013 winners who were proud to receive their green jackets.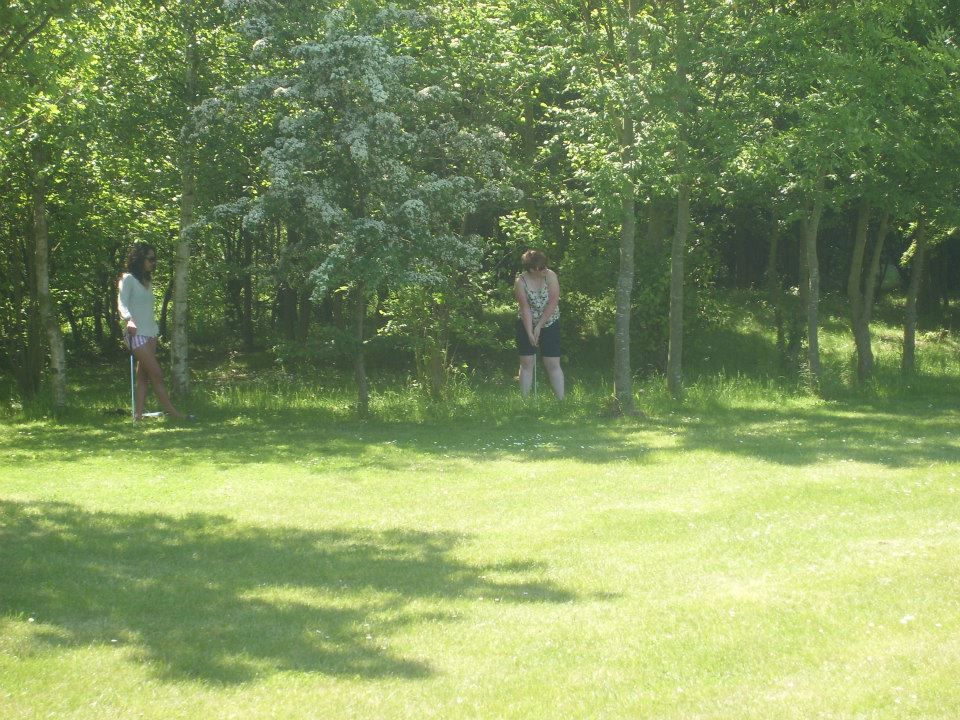 Claire tries to get herself out of the rough and back on course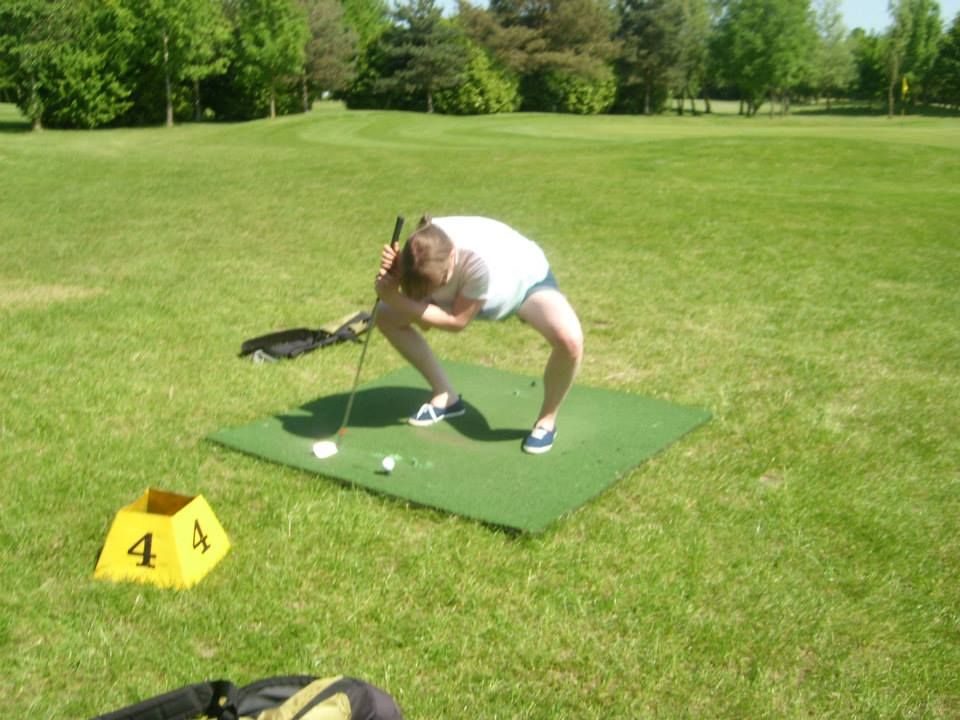 Lisa lines up her opening shot(?)
The annual cricket match against the medics was played on an overcast evening, but didn't dampen the spirits of a vocal vet crowd (thanks to the scorers). Unfortunately our run chase fell 9 short, but it was felt we had the moral victory.
Sports at the vet BBQ were well received – Welly Wanging, Giant Hoopla, Apple Bobbing, Egg Catching and a monster game of rounders all featured heavily on an evening of glorious sunshine.
We're currently in the off-season break, but with actual sports stash on the cards, the vet community is gearing up for what looks set to be another successful season.
Over and out,
Sam and Sid
CUVS Sports Reps 2013-14
stb31@cam.ac.uk / enb29@cam.ac.uk